30.04. - 10.05.2015
Open Mon-Sun, 2-9pm
Maud Zeinoun
12:18; 2013
film; 13'28''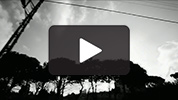 12:18 is a journey through time and space, exploring, roads, streets, buildings, and nature.
Discovering a bond that one forms with tangible sounds and music through a documented series of road trips in Lebanon, day and night.
"It's a good feeling to just drive and not to think of anything. To let the streets and the spirit of history, simply pass through me"
Wim Wenders
"I have wanted, like sounds, to live by things. And not be theirs, a winged consequence "Carrying the real far"
Fernando Pessoa
Maud Zeinoun was born in Rabieh, Lebanon in 1988. She is a young filmmaker and is focusing on building a career as a sound designer and music composer for films. She graduated from the Holy Spirit University of Kaslik in 2011 and obtained a Bachelor degree in Audiovisual, Cinema and Television. For the past 4 years, Maud has been managing an Art house Pub/restaurant called "De Prague" located in Hamra, central Beirut, where she organizes daily film screenings based on a certain theme or film genre, for the entire month. She has been a regular Deejay at "De Prague" as well. In 2012 Maud has directed two short documentaries for an Ngo called "Nahnoo" about their history and has worked on the sound design as well. She has been fascinated by the concept of road trips for a long time and that inspired her to make experimental films about industrialism in cities. She did her first experimental film in October 2013 called 12:18 and has discovered ever since her passion for designing film soundtracks as well as creating concrete music for her own pleasure. She has composed three tracks so far "Bruits silencieux", "Come soon" and "Metal". She aims to study music composition in the coming years. She currently lives in Zalka and works as a freelancer.